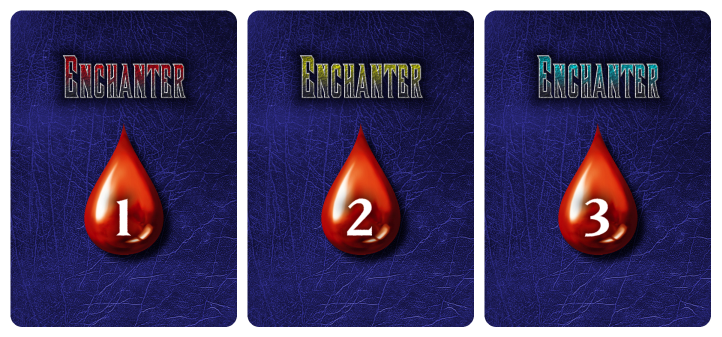 Which COLOR SCHEME do you prefer???
Some background, the color used on the BOX is the RED (#1). The color used on the GAME BOARDS is YELLOW (#2). The third color CYAN (#3) was just added because I knew it could look good.
Also you can click on the image and it will pop-up a new TAB with larger sized preview...
Note: Some additional background, one of these cardbacks will be used as the "Health Point" (HP) tracker so the various classes of Wizards in the game.
The reason I didn't want to go RED (#1) was because there is a card and class (Elementalist) which is RED. And so I was experimenting with other colors and came up with the YELLOW (#2) and CYAN (#3). Neither of those are used to represent the colors of a Wizard class...
The Wizard class colors are: Red, Green, Blue, Purple and Gray.