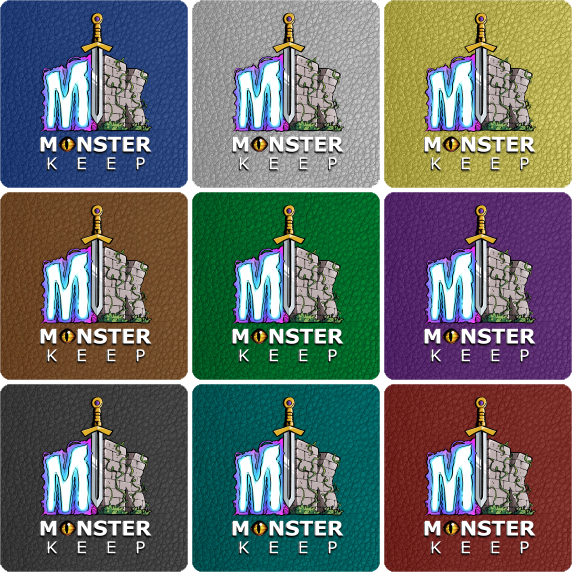 Well it's been humbling that I've worked on yet another Design that was just "not exciting". Sure it had a lot of "Novel" ideas which I am planning to re-use... But I couldn't see the "Game Experience" as being original enough even with all of the "technical advancements".
"Monster Keep" (MK) has been on my design "bench" for the last two (2) months... Since "re-vamping" the design, I had some basic ideas about what it is that I wanted to "accomplish".
1: The first thing that I wanted was a "Customizable" Card Game (CCG).
This was because I had worked HARD on resolving issues with failed CCGs. Many of them because of poor adoption or plainly not enough players. But that's the thing about CCGs, most players abhor the "Customization" aspect, while hardcore players LOVE IT. So I really think that I had a SOLID model to please BOTH "hardcore" Deck Constructors and the Average "Fantasy" Gamer.
2: Solving the Mana problems in most CCGs.
Although I had some fresh and novel ideas in this aspect of game play... But this meant that in a way, the game required "Battling" or "Combat". I have since taken a "step-back" from that aspect of most CCGs. So let's move on to the NEW direction I am deciding to follow...
In thinking about the game, I wanted to have "Mathematics" as a CORE element to the game. And as I pondered over different version of MK, one struck me (Version 10.0) to be an earlier design with the original three (3) stats BUT no Operators or Operands. This design was PRIOR to me being so FORCEFUL with the math, that this earlier design offered a unique simplicity: what if instead of having operators and operands, the cards themselves could be used to generate them ON-THE-FLY!
So no more would you SEE the "Math" ... But indeed it would still BE THERE hidden in plain sight with the stats of the cards themselves. It's SO BEAUTIFUL, it brings a tear to my eye! (LOL) No but seriously it's cool to HAVE MATH but not expressively require cards to have math elements.
All there is now is THREE (3) Original stats of MK: Power, Skill and Magic. A mini "Attack Position" chart which explains how each type of card may attack! And lastly a "Special Ability" for each card which relates to other cards in play, making the overall game VERY strategic.
Moreover my STRUGGLE with Division as being one of the Operators is SOLVED... Now you can have Addition ("+"), Subtraction ("-"), Positive Multiplication ("x+") AND Negative Multiplication ("x-")! But no more Division: it's gone and the cards are "unaffected" by it's disappearance! Which is FANTASTIC and miraculous at the same time!
Just an explanation,the Multiplier can now be POSITIVE OR NEGATIVE. It's very COOL because aside from racking up all kinds of "Tribute" (Points), now you can stand to LOSE some too! It's just so satisfying that I know NOW how the design stands to "evolve".
I know, I know... I've been at this crossroad before... Just thinking about a NEW DIRECTION for MK! And yes, I'm sure I've blogged about all kinds of "exciting" ideas, novel direction and all of that. The point that I want to make is that in this specific case, because everything is "abstracted" the cards look SUPER SIMPLE and the only thing left to do is "tweak" them with some FONT adjustments and NEW "abilities" (for most of the cards). The true fact is that the Version 10.0 cards have TERRIBLE abilities... They really don't make sense in the PRESENT context.
Therefore what needs to be done is a "refactoring" of the cards in Version 10.0 and adapt them for this new version. And using what I have learned from version 5.0, I will see how to MERGE both designs into something more balanced and BAD-ASS!
Some other details is that the game will support two (2) Players with Micro Decks of twelve (12) cards plus the Nexus card which is the starting point for the game. That means "The Keep" will be comprised of 25 cards (12 x 2 = 24 + 1 = 25)!
What's even more interesting is that it can accommodate four (4) Players with the same size Micro Decks plus the Nexus card... And that means 49 cards (12 x 4 = 48 + 1 = 49)!
Amazing how that all worked out... Which is really NEAT! I am also using a NEW format of cards: they will be 2.5" x 2.5" SQUARE Cards. This will allow the four (4) players to play more seamlessly without the odd sizing.
So the CHALLENGE will be to "craft" abilities that work with the design. And see where that takes me. The Game Play WITHOUT abilities is already a REAL IMPROVEMENT. I know that Tile Laying game with Math is not necessarily the most NOVEL idea... But trust me, this one is a REAL THINKING game. Perfect for novices that just want to play to people who enjoy MASTERING games and the "possibility" of tournament play (because of the additional impact the dynamic math has a way of making the game more competitive when the right players play the game).
Anyways I'm super excited! I'll let you guys know how things will progress as I move forwards and make more tests about the game itself!
Cheers...