I design games and interactive activities for use at my day job. I teach people industry-specific material on an introductory level, so that when they apply for a job in the field, they'll have at least a basic understanding of the industry they're entering.
It's always a challenge to develop a game for our typical audience. The vast majority of them - likely 98% - are not hobby game players and haven't played anything more complex than a hardcore game of Sorry! or Uno. That said, I think there's plenty to chew on with this game, as I wanted to streamline the process of learning the material, plus keep everyone engaged to the very end.
Just today I finished my first-draft prototype of what I currently call The Freight Forwarding Game. I wanted to simulate the process of booking space on a shipping vessel coming from different places across the world into some of the more notable ports in the USA. To put it in technical terms, it's a kind of combination of worker placement and area control game.
I wanted to post a couple photographs here both for my own record-keeping as well as to share my recent game design projects.
This photo shows the area map with the six different ports where ships can dock and then offload their cargo. There are multiple spots at each port, but only when a ship is in "Berth 1" can it be offloaded (and the player collects money). For game purposes, each orange cube represents $50.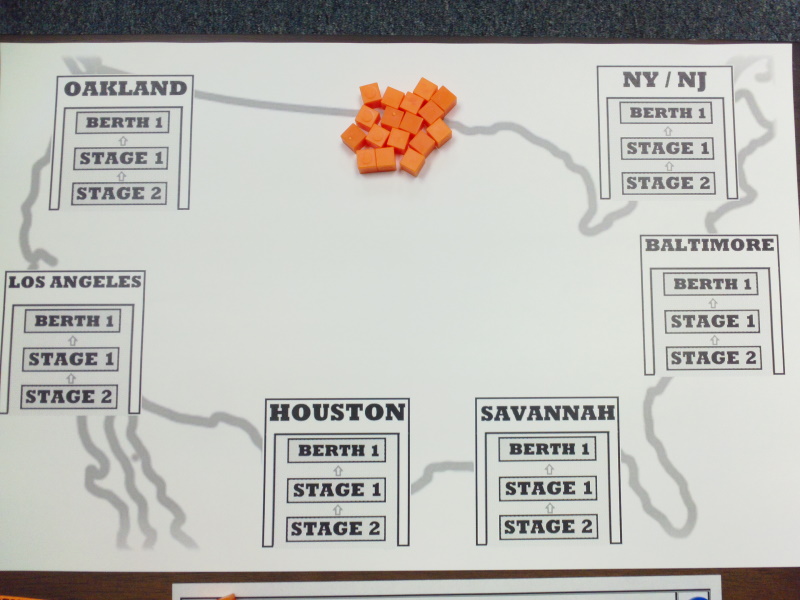 Next photo: Each player manages their own fleet of up to six ships at once. These are wooden shipping vessels and matching player pawns (thanks to The Game Crafter for these pieces...!). Once a player bids on a shipment, they move their ship to the Course Chart and move their matching pawn to the area map. Both the cards used for shipments and the Course Chart are pictured below.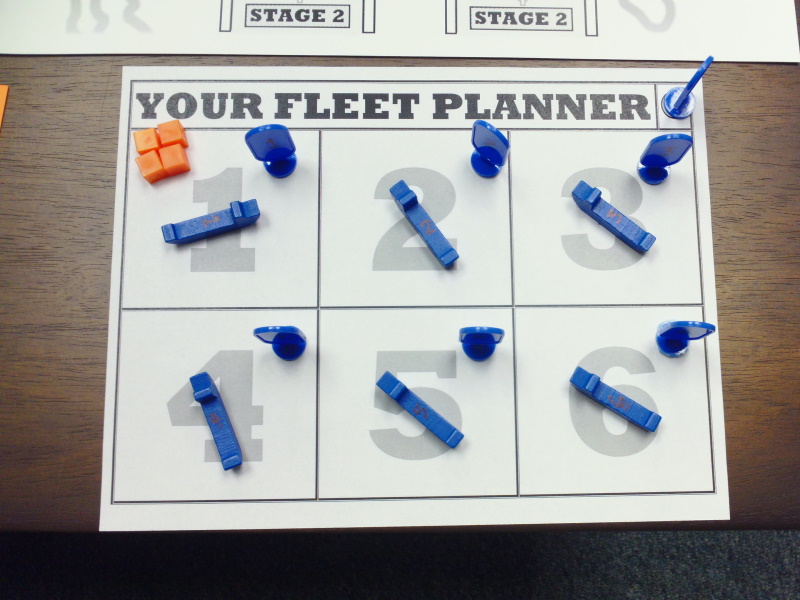 Next photo: Each shipment contract is composed of two cards, each drawn randomly. First, the destination port, found in the USA. Second, the Country of Origin, along with the specific cargo to be carried. To develop these decks of cards, I researched the largest (by area and income) ports in the USA, followed by the USA's top foreign trade partner countries, and the cargo they most-frequently produce and export to the USA.
Once a player bids on a contract, they move the cards for that contract to the space held by the ship used to complete that shipment. This way, the player can track which ships carry what cargo, and how much they'll collect once the ship is unloaded.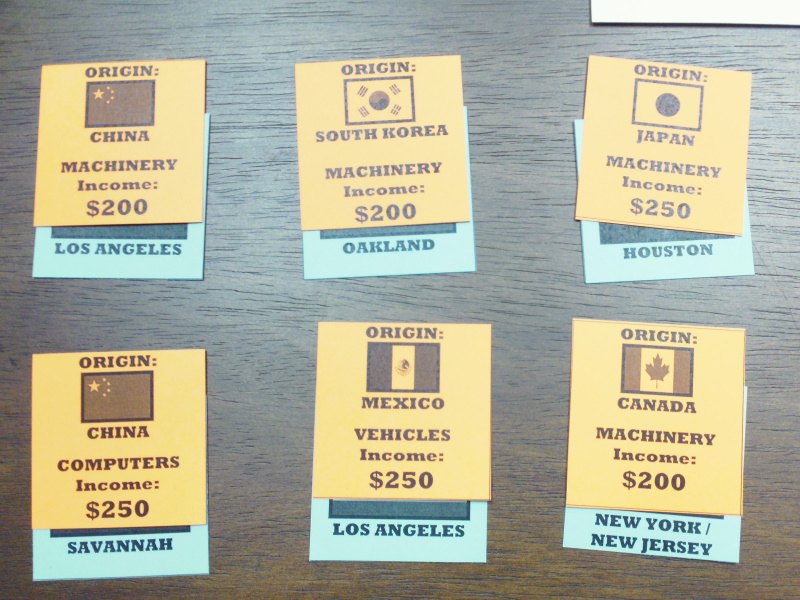 Final photo: This is the Course Chart, which tracks how far away a ship is from its Destination port. Depending on the Country of Origin, some trips take longer than others. For example, those ports on the West Coast of the USA have shorter trips than those on the East Coast, while those to the East are closer to the European Union.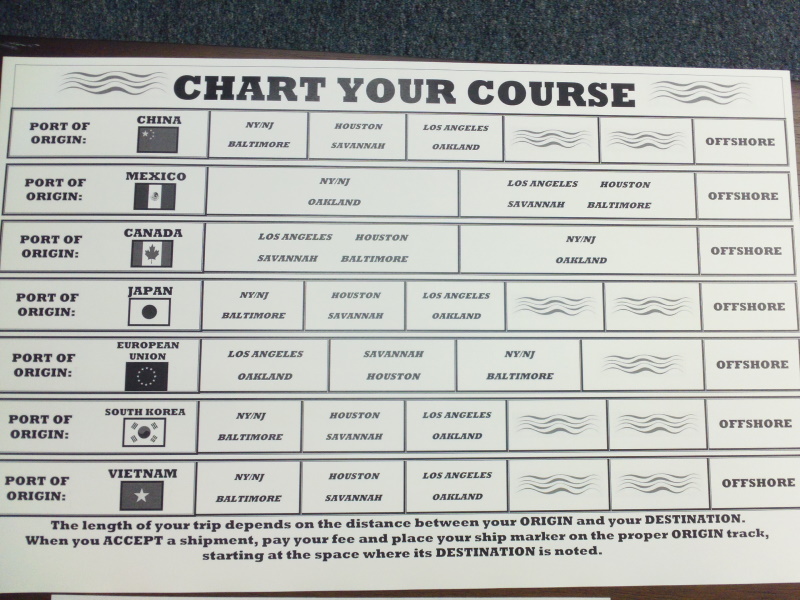 One thing I didn't note yet is there's a turn-order mechanic in the game, preventing lock-ups when more than one ship enters a port at the end of the same turn. Turn order rotates after a certain amount of time, maybe at the start of each turn.
I'm also considering a kind of "favoured port status" or majority bonus of some kind for players who have the most shipments coming from a specific port, or of a specific type of cargo. That's some next-level stuff seriously, so it's doubtful I will be able to implement this for the first version or so.
This is pretty much the MVP (minimum viable product) for the game, and I'll be playtesting this over the next few weeks and into 2022. We have a new cohort coming in January, so I hope most of the bugs are ironed-out before then.