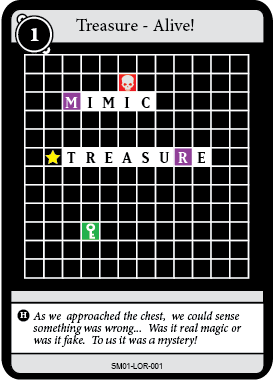 Okay so here is a "Level 1" Sample "Lore" card for "SpellMasters". So I won't spoil the card... but it's pretty easy puzzle to solve.
I can count six (6) different ways to "bridge the lair" and a whole slew of words that can "link the key"!
But it gives you an idea... This is very simple to "introduce" players to the game ... and working together to A> Solve the Puzzle (if it is easy enough) B> Work on winning the most amount of points (competitively).
Feel free to post some comments below with "possible" solutions!
Enjoy this first preview (I may do 5 ... since there are 5 levels of difficulty). But the design of the Puzzles is a bit difficult (it ain't easy...) So I'm going to take my time when designing these "Lore" cards!
Cheers!