Well I just DESIGNED the "First" of six (6) LEGENDARY cards:
Purse of Plenty = Item (Purple), +1 Orange, Stockpile = 2Y + 2O + 2R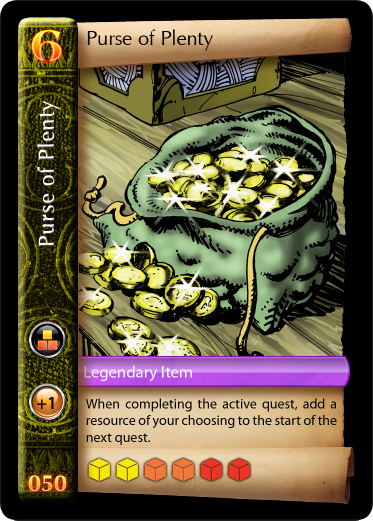 I realized one (1) of the cards previously drawn/illustrated was NOT going to be used by this 2nd version. I don't know WHY... It seems like during the sorting, the card was removed from circulation.
And so I decided... Why not make it the first Legendary card...
EXCITING...!!!
Note #1: This still gives a PREVIEW of one of the "rarest" cards to be a part of the future game.
Note #2: In regards to the "rareness" of the card itself being a "Legendary" card... There are five (5) levels of "rareness":
Common, Uncommon, Rare, Mythic and Legendary.
In terms of odds to get the card (or for that matter any other Legendary card also) is 1 out of 246 Mythic cards. So 0.41% ...! Got to be real LUCKY with these cards.
Note #3: the odds of GETTING any Legendary cards is 6 out of 246 = 2.44% Better than 1%!!! But not by too much.