Let me clarify the title a bit... What I mean is no "Character ART". The cards themselves are stylized and look very cool. Having said this... There are a couple of Abilities on EACH card and take up a certain amount of room. They look as follows: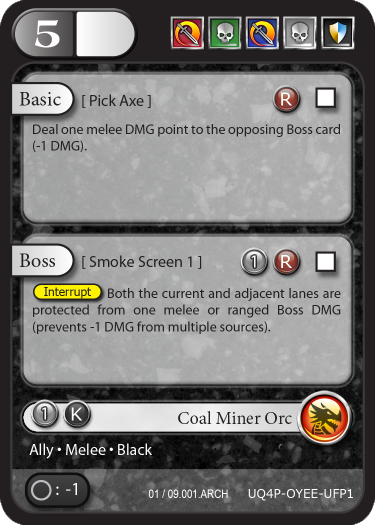 This is an older SAMPLE... That I am revisiting. As you can SEE, "NO ART"!
I figure that in most games, ART is required. But in this Strategic Card Game, the abilities of the cards are MORE important.
I got some late-night ideas yesterday concerning this design. I already had some of them down packed... But I realized that with some minor changes (5 instead of 6 Defenders) and ONE (1) Boss Card... This game could be more exciting TBH.
What are your thoughts on "NO ART" Collectible Cards???
Anyhow feel free to share YOUR opinion and weigh-in what others think about this type of card design!
Note #1: Also there could be room for up to THREE (3) different Tactics/Abilities, this sample only shows "2"... But something like "Basic", "Adept", "Elite", and "Boss" could be there instead of "Turn-Order" sequences ... Which is JUST BAD Design TBH.
Like I said ... This design just woke me up and had me re-thinking the order.
Note #2: I figured I'd ask the other designer their own impressions if this KIND of "card" could sell and could it be collectible too?!